It's National Bring Your Dog to Work Day on 24th June, and whilst we can't all bring our dogs into the office, we thought it would be a good time to show some appreciation to our canine friends. They keep us company or keep us motivated, and they're always there for us after a long day of work. They keep us sane (though they can definitely drive us insane!), but we wouldn't be without them!
Meet the dogs...
Austin
From Austin's mum:
Austin is a rescue dog who has his issues! Once he knows you though, he's the most loving dog.
He really helps me get through my day - we go for walks in our local field which helps enormously with my mental health and resilience; and having another living being to take care of helps keep things in perspective.

He gives me a whole lot of love!
Bane
From Bane's dad:
Bane is a 10 year old rescue, so I'm unsure on his breed, but what I do know is that he's incredibly handsome! 
He helps me keep my daily work routine on schedule by never letting me forget his lunch or dinner times. 
Despite his rugged good looks, he gets more grumpy with each birthday and as you can see, he loves when I dress him up!
Bertie and Boris

Bertie and Boris are 2 of 6 Cavendish Cavapoos - I guess you could say we have a type! 
They're both super cuddly puppies and just behave like brothers do - they might fight over a ball, but they always make up afterwards. Their favourite place is the beach where they will paddle, but never swim.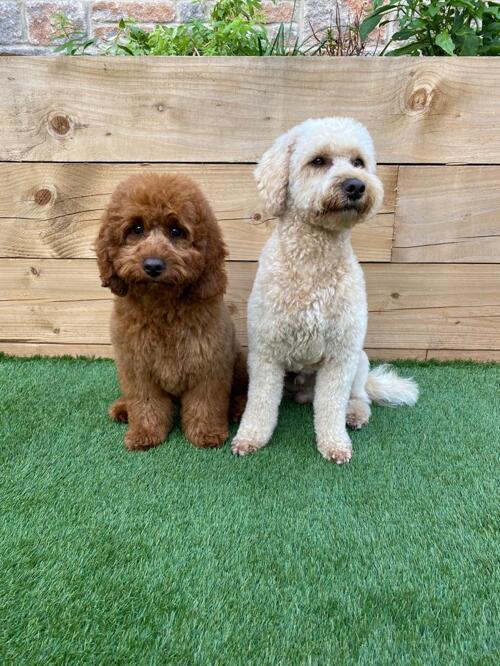 Buddy
From Buddy's dad:
Dog's are often referred to as being man's best friend, and this couldn't be more accurate when it comes to Buddy and me. Always there to provide a cuddle or lend a paw, he's the perfect companion.

Life isn't always easy with Buddy, what with his fear of the pavement and his determination to sniff every blade of grass each time we go for a walk, but all in all I couldn't ask for a better friend.
Dexter

Dexter is a wonderful, friendly Sprocker Spaniel. He mainly works from home these days, but you can usually find him in the office at least once a week to help us with security and motivation (belly rubs are provided in return).
Dexter is a very good boy, but it's best not to leave any food too close to the edge of your desk because he is partial to the odd sausage roll or cheeseburger.
Donnie
From Donnie's dad:
Donnie is a 10 year old Collie x Labrador. He's obsessed with food, tennis balls and any toys which squeak, and loves chasing pigeons. He's scared of a lot of other things, especially the hoover and the dustbin lorry! He spends a lot of time sleeping now that he's getting older, but is still a friendly, happy boy.

He's wonderful company when I work from home and occasionally comes to the office too!
Ernie and Luna
From Ernie and Luna's dad:
Luna is absolutely in charge and Ernie cannot do anything without her agreement. I can't go anywhere in the house without both of the dogs following. Both are cuddly and playful, they might sound all big and scary but it's all for show!
Oh, and Ernie happens to be the most handsome dog ever and as you can tell from the picture, he actually smiles!
Finn
From Finn's mum:
Finn is an exotic boy all the way from Greece. He's slowly adjusting to the UK weather and the fact that he lives in a house and not the streets.
He's got a loud bark, but hasn't eaten any slippers! He's a good boy when I go to the office, and sleeps next to me on the floor when I work from home.
Jake
From Jake's dad:
Jake is my Patterdale Terrier and has been with me since he was 8 weeks old. He is a 7 now and is a bit of a baby. He loves to play and run most of the day but gets scared of the curtains if there is a strong breeze.
He hasnt come into the office yet but cant wait to come in and explore and see everyone and possibly get some treats and cuddles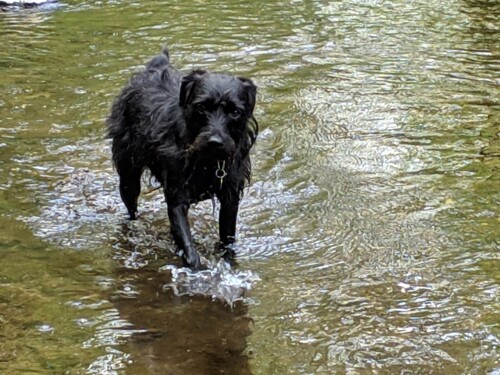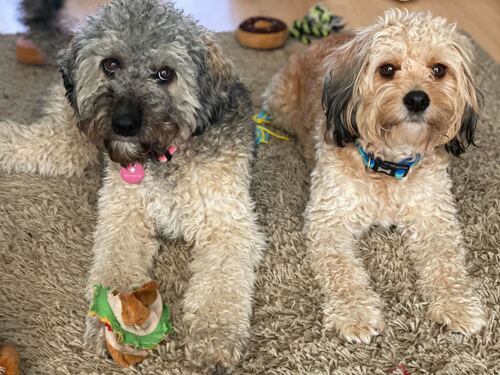 Kleo and Kodi

Here we have an adorable father/daughter team! Kodi and Kleo are 2 wonderful cavapoos that keep their mum company in her home office.
Kodi loves to play fetch all day (making sure his mum gets enough breaks!) and Kleo is a cuddle machine!
Milo and Luna

Milo and Luna's dad thinks they're a pain in the backside, but we think they're ridiculously cute (and they know it!).

Luna makes the occasional visit into the office where you can spot her napping or playing fetch, whilst Milo prefers hanging with his mates at doggy day care.
Ted
From Ted's dad:
Ted is a nearly 9 year old pug cross, that is the heartbeat of the family home.  His favourite pastimes include playing with his toy duck (Ducky), long walks, and he may also let you play fetch with him for roughly 5 minutes, before deciding he has no further time for human games.
He is my best friend and I genuinely have no idea what I would do without him.
Thank you for reading, we hope you enjoyed this article as much as we enjoyed putting it together. As you can see, our dogs are an integral part of Cavendish Online and we're glad you've met them now too!
If you'd like to meet our human team, please feel free to visit our team page.